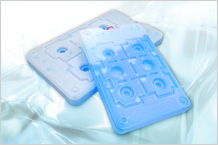 Revolutionary ability of keeping specific temperature
We have MechaCool -25℃, which is the most advanced temperature control device,
By which you can keep the specific temperature for long time
By combination of MechaCool Box, you can keep the desired temperature for much longer time
Distribution and transportation of government supplies and equipment as a Forwarding Agent for the Ministry of Foreign Affairs
Our contribution, for more than half a century, for more than 200 countries, has been qualified by the ministry of Foreign Affairs.
We, Nissei Corporation, were incorporated in 1953. Since then, for more than 60 years, as an authorized forwarding agent for the Ministry of Foreign Affairs, we have distributed a wide variety of government supplies and equipment to respective Japanese diplomatic offices abroad located in more than 200 countries.
At the same time, we have been providing excellent logistics services, not only as an authorized agent for the Japanese Government but also as a total logistics service provider, such as Customs Clearance, Sea and Air Freight Forwarding, Transportation, Warehousing, etc.