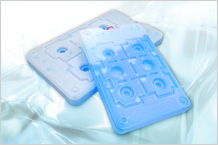 Revolutionary ability of keeping specific temperature
We have MechaCool -25℃, which is the most advanced temperature control device,
By which you can keep the specific temperature for long time
By combination of MechaCool Box, you can keep the desired temperature for much longer time
Oversees Activities, Logistics services in China & Thailand
Nissei's Logistics Services in China
Kosei International Cargo Agent (Shanghai) Co., Ltd., herein after referred to as "Kosei", our subsidiary company in China, has been providing variety of logistics services through their offices in Shanghai and Dalian.
Nissei's Logistics Services in Thailand
Through CTI Logistics Co., Ltd., our partner in Thailand (herein after called as "CTI"), we can provide variety of logistics services not only Customs Clearance, International Sea and Air Freight Forwarding, Transportation (including interstate trucking services between Thailand and Malaysia, Singapore, Cambodia, Vietnam, Laos, China), Warehousing, etc. but also an inventory management using "Free Zone Warehouse".
Free Zone Warehouse
Quality values
One-stop services
Just in time [JIT] distribution
5-Star warehouse standard certified by DIT (the Ministry of Commerce)
Tailor-made services
Long-term storage
With temperature-controlled area and rack systems
Pick-packing, mixing and sub-dividing services
Located in the prime zone of North Bangkok approximately 1 km. of Donmuang Airport, covering an area over 12,000 square meters, stands CTI's Free Zone warehouse, the first to have ever been awarded a license of Free Zone under the commercial operations category.
Such a license allows goods to be brought into the country and stored at this location with zero import duty.  With the free zone facility, client can clear through Customs in partials or the whole lot of their shipments as and when required. This will eventually help defer financial cost on import duties by customers.
Striving to emphasize top quality and reliability, CTI is proud to report that with its fully equipped facilities and highly sophisticated Warehouse Management System (WMS), it is the only freight forwarder and customs broker in Thailand with the capability to offer such extensive services.