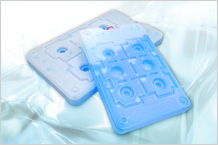 Revolutionary ability of keeping specific temperature
We have MechaCool -25℃, which is the most advanced temperature control device,
By which you can keep the specific temperature for long time
By combination of MechaCool Box, you can keep the desired temperature for much longer time
Anything-Tracking System "Nantsui"
What's the Anything-Tracking System "Nantsui"?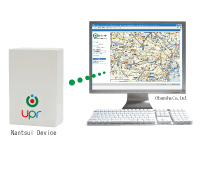 Our new service, the Anything-Tracking System "Nantsui", uses positional information. The system provides an easy way to check the positions of pallets and other goods, such as trucks and valuables. Using the PHS network, the system can track underground and inside buildings as well, which are impossible to track by traditional GPS. It is effective in the investigation of missing pallets, management of truck arrival times, improvements in reliability, and reductions of wasted time. You can check the operation status via WEB on PCs or mobile phone.
Features of "Nantsui"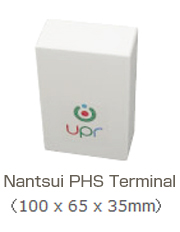 Simple Structure
You can obtain positional information from WEB site both on PC and mobile.
Long Life Battery
With low power consumption, the battery only needs to be replaced once a month or even once a year, depending on the search frequency.
Tracking Anywhere
Positional measurement is possible in places where using GPS is difficult, such as behind or inside buildings and underground, as long as it is a PHS service area.
Automatic Transmission of Positional Information
Periodic searches automatically provide positional information on an item and its history log on a computer screen.
Monthly charge is just Yen3,000.- covering all of the features above!
The monthly charge is just Yen 3,000 yen which includes a terminal rental, a communication fee, the charge of position search, the charge of data distribution, battery cost, and software cost.
【Periodic Report Type】
The monthly charge of Periodic Report Type is Yen 3,000.-
This type sends position information at a fixed interval (the shortest 10-minute interval).
*Initial installation fee of Yen 10,000 is in need.
【Free Search Type】
The monthly charge of Free Search Type is Yen 3,000.-
You can freely search positional information up to 120 times per month any time. As for exceeding searches over 120 times, Yen5.- per search is charged additionally.
*Initial installation fee of Yen 10,000 is in need.